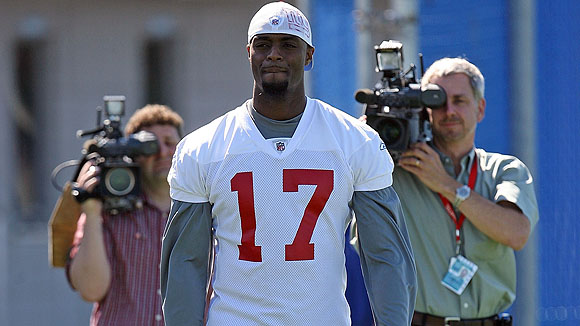 We all knew this was coming.
Plax has been suspended by the Giants for the final four games of the regular season, AND they placed him on the non-football injury list - which means he can not play in the postseason either.
The team physician examined Plaxico today and told the Giants that he gunshot would sideline the wide receiver for 4-6 six weeks anyway.
Wow - I don't know what to say. As a Giants fan, I'm VERY sad that all of this happening in the first place. I'm glad Plaxico is physically OK, and that no one else was hurt. The law is the law, and the state of New York will handle it from here.
From a football perspective, I'm sad to see Plax end his season this way. In so many ways, the Giants are a better team this year than they were last season. I've definitely been having fantasies of a Superbowl repeat. And to be COMPLETELY honest, I think we can still do it without Plaxico. Honestly, last season he played hurt every single game. This season he's been riddled with fines, suspensions, and injuries. I feel like he's been less a part of the team for a while now. The 11-1 record has definitely a team effort, and I really believe everyone will continue to pull together in Plaxico's absence. This team is SO tough, mentally and physically. Certain guys are really going to step up to the plate and step into the spotlight to finish strong this season and postseason. I truly believe that.
I'm anxious (and scared to death) to see how defenses around the league will respond to this. Lord knows if Plaxico Burress is good for anything on the field, its drawing defenders!!!!! Damn it to hell.
Read more
here.
-boogie