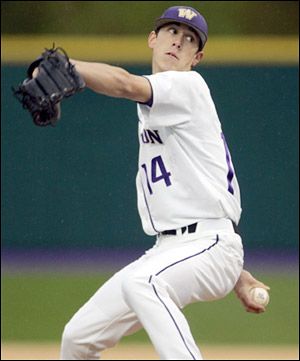 In only his second major league season, San Francisco Giant Tim Lincecum was awarded today with the NL Cy Young. Lincecum is only the second Giant to ever win the top honors in pitching.
And while there is no denying that Tim took it to the house this season and everyone knows I love when the youth show them how it's done, I need to address a topic that has been beaten to the ground this year. That's right, NY Mets bullpen, step on down because I have a few more words for you.
Schoenweiss, Heilman, Feliciano you sonofabitch, and all the rest of you (and I will exempt Joe Smith here)... You screwed up our season, you blew our playoff hopes and you made us look silly to the rest of the league. Fine. We already talked about that and you are forgiven as long as you do not come back next year bringing that same BS. I am trying to not sit around crying over spilled milk, but you guys do not make it easy.
Johan Santana, an ABSOLUTELY viable Cy Young candidate, finished the 2008 season with a record of 16-7 and an ERA of 2.53. WHAT ABOUT THOSE NUMBERS DOESN'T ADD UP? How does a man who often goes into the 8th or even 9th inning with an ERA that low and a frequent starter (at least a game or 2 EVERY WEEK) have a shameful looking record like that? Based on games where he gave up 3 or less earned runs, Johan's record should read 28-4.
TWENTY EIGHT AND FOUR.
I hate to harp on it, but it burns me up. The man gave us and you, bullpen, quality start after quality start. 4 days after throwing a career high 125 pitches in 6 innings against the Cubs, Johan laid down the law against the Marlins and pitched a complete game victory against them just to keep our playoff hopes alive. 4 days later, the man underwent surgery for a torn meniscus in his left knee. He still BROUGHT IT when he should have been in the hospital. And how do you repay him, bullpen? By blowing the final game of the season (which is par for the course) and dashing all the hope that Johan worked so hard to give us.
And now this. While it is arguable that even with a solid bullpen, Lincecum may have still taken the award over Santana, it sure doesn't seem likely. But I guess we will never know.
If it's any consolation, boys, I am sure Timmy Boy is a huge fan of yours today.