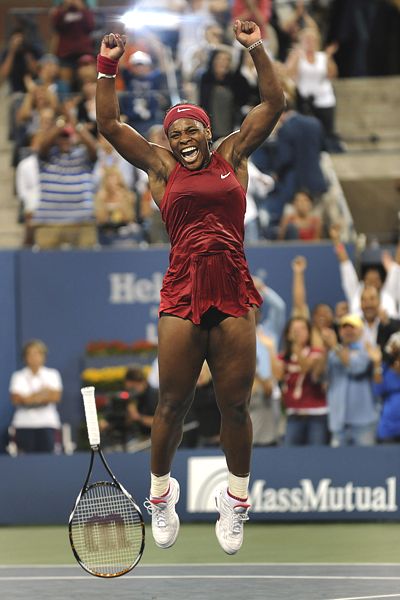 Serena Williams' straight set victory over Jelena Jankovic in this year's U.S. Open Women's final was a marquee moment in her career. Not only is this Serena's 3rd U.S. Open title, but the win places her back in the #1 spot in the WTA Ranking. She is, once again, the #1 Women's Tennis player in the world.
And she's happy about it, if you couldn't tell from the picture taken moments after the Championship point :)
It has been 6 years since Serena's last U.S. Open title AND 5 years since she last held the #1 ranking. That is the longest span between #1 rankings of any professional tennis player in history, male or female. Only two years ago, due to injury and conditioning issues, Serena was down to #139 in the rankings! After an intense Quarterfinal match against her sister Venus Williams, one that felt like a Final to many, Serena is back on top. I couldn't be more proud.
I could go on and on about Venus and Serena and the amazing contributions they have made to professional tennis, professional WOMEN'S tennis, the sports world, the fashion industry, and to young black girls world-wide. I won't get all mushy or political on you, but I love these women. I really REALLY do. I think we will continue to see them make an impact on the world around us for years to come, and I can't wait.
Which sister is my favorite? Well, I must be honest. I love them both! When they face each other I usually root for whichever sister is ranked lower. I've always been a sucker for the underdog, what can I say? I always want their matches to go 3 sets, with a tie-breaker in each! They really do bring out the best athlete in each other.
This moment in time belongs to Serena alone. I'm sure her 9th Grand Slam title is just as sweet a victory as the first.
-boogie