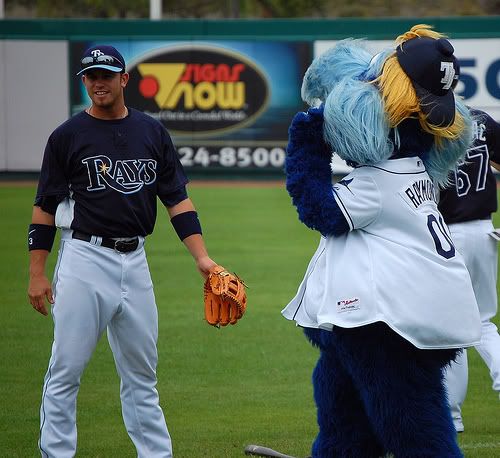 I'm already preparing for the wrath of Boogie with this post, but last night Stars' pick for World Series champs took it to the damn house against the oh-so-experienced boys from Boston, putting them up 3-1. This spells trouble for the Red Sox as they have had problems against this Tampa Bay ballclub all year long and will once again have to pull an ALCS sweep. And I, for one, don't think they can do it.
And apparently Boston is having a hard time keeping the faith as well. "This team is a surprise," Red Sox DH David Ortiz said. "Everybody is raking in their lineup. Everybody is pretty much locked in. I've been in a lot of playoffs and you don't see that too often. You might see three or four guys hot, you know what I mean? Everybody doing it, that's crazy. Man, taking pitches, swinging at strikes. It doesn't get better than that."
That doesn't sound like a quote from a man who's gotta believe to me. But it does sound like a man who is speaking the truth. And the truth is, the Rays are the team to beat.
Last night's game saw Carlos Pena and the sexy little rookie Evan Longoria going yard against Tim Wakefield. Sox fans knew their team was in trouble when their starter was yanked in the third inning. Longoria's homerun took him to 5 in the postseason, a Major League record for a rookie. And it didn't get any better for Boston from there.
Red Sox fans keep reflecting on their sweep of the Yankees from years ago, but I am not hearing that noise. Once, back in 2004, I scratched one of those rub-off lottery tickets and won $250. By BoSox logic, I am due for a big win in the California State Lotto.
Let's Go RAYS!