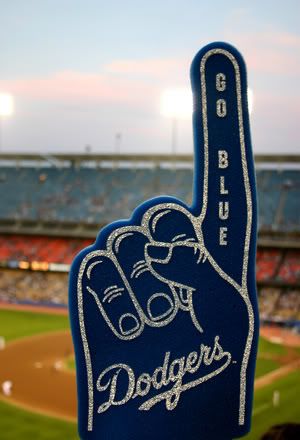 Here is a preview of the NLCS matchup between the Dodgers of Los Angeles and the Phillies of...Philly. Just as a side note how ridiculous must a team be to name themselves after the city they reside in. Come on! Could you imagine the Seattle Seattleians...the Florida Floridians...you get the point.
I digress.
This year the National League Championship will be decided in a best of seven blood fest between two teams that are an enigma to me. The question being, how the hell did they get there?
First we have the Dodgers, a team that finished the regular season 6 games over .500! If playoff spots were determined simply by win-loss records, the Dodgers would not even be considered for post-season baseball. In Major League Baseball the Dodgers finished in 15th place overall. 15th place!! Yes, 14 teams had better records. Had the Dodgers been in the National League Central, they would have finished the season fifth place in the division. Nevertheless, they do play in a division that the Japanese little league team from the movie Bad News Bears Go to Japan would dominate. All kidding aside they did send the poor Cubbies packing after taking them to the wood shed in three straight games. Sorry Cub fans...it hasn't been your century. As for my team we are almost a quarter of the way there, don't feel too bad.
The Dodgers pitching is suspect. Their hitting is a threat. James Loney somehow has an ability to make things happen in big spots. Matt Kemp and Russel Martin are fierce sluggers currently on a tear. Their defense is above average. And of course, they have ManRam, the all time post season home run king. ManRam can nonchalantly watch a ball sail over his head, effortlessly barehand the carom, and toss a laser into whatever base he wants throwing out a would-be baserunner by 95 feet. That may be all they need to move on to the World Series, depending on what Philly team decides show up.
The National League East Champion Phillies (I just died a little inside typing that) have to be the overwhelming favorites to represent the National League in the World Series. I would like to briefly mention that they did lose the season series to a dormant New York Mets club who also had a better record than the Dodgers. However, the Mets are probably watching the playoffs from their living rooms, yachts, stretch Hummers, or private aircraft. The Phillies' lineup can be a menacing one, but they all have holes bigger than...nevermind. Regular season homerun champ Ryan Howard can break a world record by striking out 200 times in the post-season. Chase Utley began the season like a bat out of hell and has since fizzled. I am calling him a fizzle. Chase Utley, you are a fizzle. Pat Burrell can only hit a baseball against a certain team from Queens, and Shane Victorino has a little league helmet. Their strongest player hands down is Jayson Werth. I have been following the Phillies all season and have yet to see him make a mistake.
My prediction for this series is that the winner will be determined by who is more dominant, Manny Ramirez or Jayson Werth. Plain and simple, they are the players to watch this series. As a non-biased observer my prediction is Manny Ramirez will have his way the entire Phillies roster, and kill many Persians in the playground they call a ballpark in Philadelphia. The Dodgers will be victorious, bringing a hell fury of momentum to the World Series before they get stomped out by the American League champions, whoever they may be.
Enjoy the show!