Welcome, welcome to the LLR 1st Annual Online Awardo Show. No boring monologues or irritating comedian host.. here we just get right into it!
Ladies and gentlemen, your winners!!!
Quantum Leap Bullpen
N.Y. Mets
This award was a gimme. The Mets' bullpen takes home the Quantum Leap award with not another bullpen getting a single vote. And what, might you ask,
is
the Quantum Leap Bullpen? It is simply when Sam from Quantum Leap takes over the body of someone else. In short, we are certain that Sam leaped on many occasions into the bodies of these relievers and Al says, "You are Mets relief pitcher (fill in the blank). Don't worry about pitching; you're here to save a little girl!"
Keith Hernandez PowerStache Award
Jason Giambi
Giambi possesses a mustache paralleled only by the man himself. Accept no imitations.
*Solid Beard Award

Casey Blake
Casey's beard is best described as solid. He doesn't own the nickname of "Mountain Man" for no reason. The world would be a better place if more people had beards like Blake's.
Best Sideburns
Joe Mauer
What else can be said about the man, the myth, the legend that is Joe Mauer? Best catcher in the MLB and the best hitter in the AL.. and the best sideburns in the whole world.

Stupidest Comment
Hank Steinbrenner
"It's time the National League joins the 21st centuryor is forced to join. The National League is playing the same way it did in the 1880s. That's over with. The National League should have the designated hitter. There's no question the National League should have it. It's OK for the Yankees to fill up the seats in the National League parks, they make a ton of money off us. Then we should support each other when one of our guys gets hurt. The National League should join the club and not have pitchers hit. It's time to go to the DH. It's the right thing to do."
Mr. Steinbrenner, what an idiotic remark. I can not say anything that hasn't been said by hundreds of journalists about how stupid that statement really is. Come on!

Best Comment
Keith Hernandez
"Take that slide and file it."
A debt of gratitude to Rickie Weeks for making this award possible. How one slides into an umpire in a bang-bang play at second base is an opportunity for the master of the microphone to tear you a new one. Best supporting role for this award had to go to Rickie. Good job, Keith.


Fatso Award
Prince Fielder
This award was difficult to give out in the absence of Mo Vaughn. Truth be told, the man can hit. What is really difficult to swallow (except nothing for Prince) is how after every Brewer walk off win, he untucks his shirt as he triumphantly hobbles to his destination. His gut is epic. Enough to give him the award over teammate C.C. Sabathia!

Jekyl & Hyde Award
Carlos Delgado
Whether Delgado's performance in the first half can be attributed to a big F you to Willie Randolph or not remains irrelevant. We here at LLR are launching an investigation into whether Mr. Delgado has an evil twin because really... there is no way that was the same guy.

Probably Still on Roids Award
Brian Giles
Brian Giles won this award unanimously. His arms are similar to a set of birch trees. I remember when Brian came into the league looking like Pee Wee Herman wearing a Braves uniform. (We believe it was the braves - we don't feel like looking it up.) Brian...my advice to you is this: While you might have mighty lumber...umm...you know how the rest goes. Enough said.

Dan Uggla Award
Dan Uggla
Who better to take home the inaugural Dan Uggla Award than the very man the award was named after. This prize goes to the man who best demonstrates mutiple errors in a game and the uncanny ability to remember how to hit when it is most inconvenient. Thanks for a year of entertainment, Dan!

Overrated Player of the Year
Alex Rodriguez/David Wright (tied)
Unfortunately the voting for this award took place during a bitter time for Mets fans or it would have belonged solely to A Rod. We apologize to Mr. Rodriguez for forcing him to share an award he deserves on his own. But combined the two possess a salary greater than the net worth of most third world countries and big glossy stats that ultimately mean nada. Hope you both are enjoying your early vacation!

Underrated Player of the Year
Jason Bay
The vote was a landslide. As a member of the Pittsburgh Pirates, Jason Bay was just that...a Pittsburgh Pirate. When dealt away in a three-way deal involving Manny Ramirez, Jason was thrust into a very difficult situation: replacing Manny. While doing so under the radar, Jason has produced time and time again. Without the efforts of Jason Bay, the Sox would not be the menacing team they remain to be. One question Jason, how do you feel about Queens?

Douche of the Year
Elijah Dukes
Ah yes, the coveted Douche Award! No active player in the league deserved it more than Elijah Dukes. Upon being mauled by booing fans at Shea Stadium, Dukes proceeded to raise the roof Gary Cohen said, "This is a troubled young man!" Elijah has been unable to stay out of trouble from the law with weapons offenses, assaults (probably sexual), and many other things being investigated by federal agents. For being by far the biggest douche in the league today, please stand up and collect your prize. Mr. Dukes! Stop robbing that elderly woman, and get your trophy.
I Heart You Most Of All Award

Joe Mauer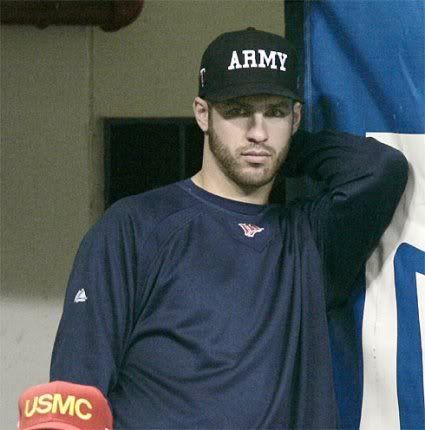 This award is presented simply for the fact that I wanted to give Mr. Mauer another award. No one else even came close to making 162 games such a pleasure. You do it all, Joe, and I must pose the very question posed to Jason Bay.. How do you feel about Queens?
Biggest Bulge
Jim Thome
I think the picture says it all. Solid work, Jim.
Bubble Butt

Carlos Zambrano
In a shocking upset defeat of Ken Griffey, Jr., Carlos Zambrano takes it home!
Most Hilarious Strikeout
Sean Rodriguez
Just read all about it.





Best Mascot


Rally Monkey (LA Angels of Anaheim)




This really needs no explanation. Rally Monkey is freaking adorable. In discussion with coworkers, it was decided that the two best things in the world were to be in a bank heist and to own a monkey butler. Rally Monkey comes closer to these dreams than anyone else.



Worst Mascot


Homer (Atlanta Braves)




Homer...you make me sick to my stomach. You would assume that a baseball team named after a fierce tribe of Native Americans who tomahawk and scalp people could have a better mascot than Homer. Homer looks like a gay retarded version of Mr. Met sporting Atlanta Brave Gear. I think a base with eyes would be a better mascot.



Guaranteed Out


Luis Castillo




Mr. Castillo, I would like to inform you that the point of an at bat isn't to drive the ball into the ground as hard as you possibly can. I know you basically have no knees left, yes, like Lt. Dan from

Forest Gump

but still don't you think you should alter your swing so that maybe you hit the ball out of the infield? Maybe we should move the walls in or allow you to play on a Little League team. I can't wait until Omar can't trade you and just fires you.



Get In the Van, I Have Candy Award


Jered Weaver




The more I stare at him, the more I notice the creepy predator look in his eyes. He is the kind of guy you would take a romantic vacation with to Amsterdam and then not see him for 4 days, upon which time you would find him passed out in an alley dressed like a lizard with 2 trannies flocking his side. Gross.



Best Injury



C.J. Wilson




In a tough category, no one comes to mind as the victor except for C.J. Wilson. Wilson has spent an undisclosed amount of time working on the elusive Gyroball. If the pitch did exist, it would be a lethal weapon that none of baseball's greatets hitters would know what to do with. If you're wondering why C.J. has multiple bone chips in his throwing elbow, all you have to do is research how a pitcher might throw a gyroball. All you have to do is use your pitching arm as a slingshot until about 3 quarters of your delivery. You must then re-direct your arm in a way nature never intended, then snap your elbow in 4 places. Keep on working on that pitch C.J. Workman's comp is only a few pitches away.



Biggest Surprise


Tampa Bay Rays




As I write this, I am still reeling from Tampa Bay's clear domination of the White Sox. From worst to first, a true Cinderella story... here's hoping you guys go all the way.



Most Overpayed Player



Dontrelle Willis




This was supposed to be a HUGE blockbuster for the Tigers. Unfortunately, it didn't turn out as great as hoped. The D-Train let up something like 9 runs in his first 2 starts and then got dropped down to Single A baseball. I don't know what else there is to say about this, except that the Tigers STINK!



Comeback Player of the Year


Jon Lester




What more can be said about a player who comes back to the big show from a battle with cancer. May 19th vs. Kansas City Royals Jon Lester becomes part of baseball history by throwing a no-hitter. Granted, it was against the Kansas City Royals, but it is an impressive feat nevertheless. Lester will now be facing much easier odds in comparison...playoff baseball. Lester has led an inspiring life considered the cards he's been dealt. Words I had never thought I would say before...I have a special place in my heart for the Boston Red Sox pitcher.



Rookie of the Year


Daniel Murphy




It is with great pride that I present this award to the Mets' perhaps one beacon of shining light, Daniel Murphy. Murphy unfortunately doesn't qualify for the MLB Rookie of the Year, but what does he need that for, when he is the LLR Rookie of the Year? Only Gregg Jefferies had more hits in his first 81 at-bats than Daniel Murphy. Not only did Murphy go on a crazy hitting tear, but he also played respectable outfielder despite being a natural third baseman. Oh, AND he's pretty.



Hilarious Coach Award


Lou Pinella




I love Lou. I wouldn't fuck with Lou, but I love Lou. Despite the fact that Bobby Cox, Tony LaRussa and Joe Torre have more career ejections than Lou, no one gets thrown from the stadium with quite the red-faced flare that Lou does. Lou is a baseball staple. I pray for the Cubs to get bad calls, not because I have a problem with the Cubbies, but because I can not wait to see Lou stomp out and get in anyone and everyone's face. Randomly, I bet Lou would make a great prison warden.



Most Boring Team


Cincinnati Reds




After their trades of Ken Griffey Jr. & Adam Dunn and sizzling hot Edinson Vólquez finally fizzled, the Cincinnati Reds changed the name of their home from the "Great American Ball Park" to "The Great American Bore Park". Seriously, after Grif and Dunn were traded was there a reason to watch this team? As a matter of fact, I can't name a position p....zZzZzZzZz....oh, sorry I fell asleep writing about this team.



1998 World Series Baseball Award


Chicago WhiteSox




With their acquisition of Ken Griffey Jr. the White Sox have made their bid to become the best World Series Baseball 1997 in the game. Rumors have circulated that the Sox are discussing contract negotiations for Juan Gonzales, Cecil Fielder, and Dante Bichette. Rumor also has it that Ozzie Guillen will become a position player/manager.




Morgan Freeman Award


Jerry Manuel




No one in the game looks more like Morgan Freeman than Jerry. He's gangsta.



Brawl of the Year


Rays - Sox




You knew it was coming when CoCo Crisp slid into second hard. The retaliation came

the next day

when James Shields beaned CoCo. Okay, I get that you don't like a player after he was a dick, but you get back at him the next day? And Co Co, plenty of people get hit, man up and take first. Don't charge because you were a douche the night before.




You Didn't Get Any Awards Award


Derek Jeter




Perhaps it just isn't an awards show without giving Derek Jeter some award he doesn't deserve, so in the interest of being a true awards show we present Derek Jeter an award for no good reason. I have nothing interesting to say about you, except perhaps... nope, nothing.

Ladies and gentlemen, that concludes the 2008 Awardos show! Thanks for sticking with us!