Some of you may think in baseball there is an off-season. There isn't. These hard-working, hard-playing boys often go right from regular season to fall league to winter league right to spring training. Who says being a professional athlete is all fun and games?
Ok, maybe it's a lot of fun and games as my photographer, Christina, and I learned this past weekend in Peoria. The kind folks at MLB allowed us time to come down and check out a game this past weekend. We were also given the opportunity to catch up with a few of our very favorite up and coming superstars.
And I don't use the term superstar lightly. The Arizona Fall League, despite its lower profile, has been host over the last few years to the likes of Evan Longoria, Kevin Youkilis, David Wright and Jorge Cantu, amongst many others. The AFL gives you a chance to see these talents in an intimate setting right as they are beginning to hit their stride. As a baseball fan, you know it's a place where the magic is just about to happen.
And happen it did. Christina and I arrived Saturday to the stunningly beautiful ballpark where the Mariners and Padres call home during spring training. We were welcomed into their venue, along with a plethora of scouts just waiting to spot the next Joe Mauer or Albert Pujols. We checked out BP for a while and a few of the players were gracious enough to spend some time chatting with us before the matchup between the Peoria Saguaros and the Peoria Javelinas.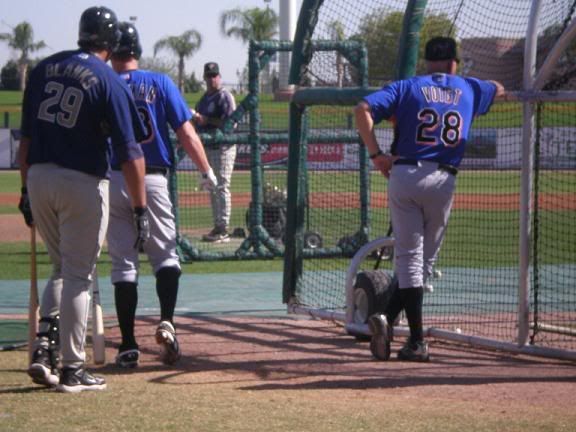 Here, Mike Baxter of the Padres organization gave me a little insight into just what it's like to play in Arizona.
Do I look excited? I was. Despite Baxter's smaller stature, he went on to score 2 runs and maintain that unbelievable .455 batting average.
Sean Kazmar, who had already spent some time up in the Majors with the Padres, was also kind enough to speak with me.
As you can see from my interview, Sean was unbelievably humble and embodies just what we at LLR adore in a player... the love of the game and gratefulness to be there.
Stay tuned for Part 2, where I talk to Eddie Kunz of my beloved Mets and Bill Rhinehart of the Washington Nationals ballclub.
Oh and let's not forget the unbelievable nightlife we experienced and the top 10 reasons why there's no better spot for a weekend vacation than Peoria, AZ.