What little boy growing up at some point didn't dream of becoming a professional athlete? I can't tell you how many times as a kid Action made me stand in the batter's box while he pretended it was the bottom of the 9th and proceeded to strike me out. Pros seem to have it all - unbelievable talent, money, women, blogs like the LLR entirely focused on them. Who wouldn't want that life?
Well, it ain't all roses, let me tell you. Yeah, you spend half your life traveling and people who don't know you hate you. But that isn't the worst of it. What may potentially be the worst is rookie hazings. Allow me to provide you with a few examples of what the manliest men our country has to offer have suffered through.
Ladies and gentlemen, I present the team I believe to be the sexiest in baseball - the Twins. And here are their rookies catching the last of the Indians game at Jacobs Field. That's just cruel, guys.
Pink is not Andre Ethier of the Dodgers' color.
But perhaps Fruit Stripes Gum is the color of Andy LaRoche.
The Braves rookies... looking no worse than they do on the field this year. Zing! (I'm sorry, I love you guys.)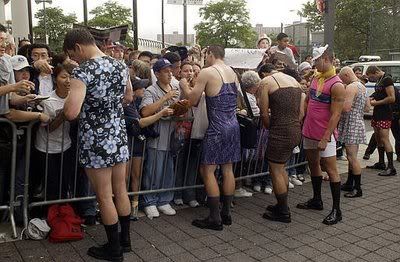 Not one of the Devil Rays rookies has the legs for that dress.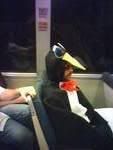 Just your every day... John Rheinhecker of the Rangers riding around on the BART in what is truly a penguin suit.
Hate to say it, but Yankee Robinson Cano is kind of sexy as a cheerleader.
And let us never forget... the little girls' backpacks that are the staple of any bullpen.
\
- stars