5.
Citizens Bank Park
- When I learned that Williamsport, PA would no longer be the home of the Little League World Series, I thought it was atrocious. I mean how long has it been there? However, I later realized it's because this year's little league world series will be played in Philadelphia. That's right baseball fans, prepare for the Phillies to take on whoever it is in the LLWS at CBP...maybe Ryan Howard should try hitting some homers on a major league sized field.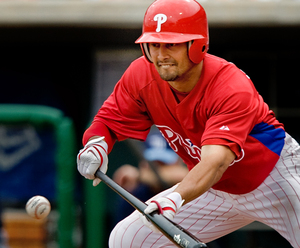 4.
Shane Victorino
- To match the ball park they play in Phillies centerfielder chooses to wear the double eared Little League helmet. I understand he's a switch hitter and all, but seriously buy two helmets. The guy looks like a friggen clown. Not to mention, he may make plays in centerfield, but he makes easy plays look awful hard.
3.
Brett Meyers
-
I just can't do it. I can't cheer for a wife beater. While I do tend to wear them under my dress shirts, Brett Meyers is
a different type of wife beater
. A REAL ONE!! While I can make fun of it for it, because I mean really you're a professional baseball player and look at the size of his wife. What a coward!
2.
Jimmy Rollins
- Here's a guy who called his hometown fans 'front runners' and is just a loud mouth in general. For someone who makes millions, FIX YOUR F'ING TEETH! The guy is just a scumbag who goes around talking about other team (mostly the Mets), but he's a 'leader'...Let's be honest, his numbers last year were not MVP numbers, and I wish the media especially ESPN would stop riding this guy's jock. Eff you Jimmy I hope you get cranked in the face again!
1.
They're The Phillies
- As if the reasons above weren't enough and you needed another one, well here it is. Plain and simple. I mean who makes a team name the short name for the city they're from it's like the Atlanta
Atlantans or the Boston Bostonians. I mean really, they have got to have the worst team name in all of sports...Plus they're a bunch of scumbags.