The fun never stops. These photos come compliments of Kelly O'Conner and Liza (ripped from
OutInCenterField
Chris Carter
First of all, the wig askew just gives a magnificent touch. I think I went to high school with a girl who had roots like that. Her boobs were far less impressive, however.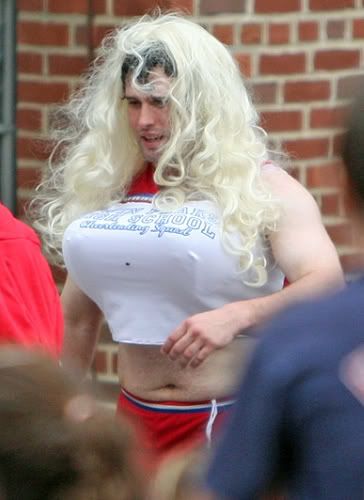 Chris Smith
This is hands down my favorite. He really seems at home. I guess he earned that tiara.
Davern Hansack
So the theme this year was High School Musical. So I am assuming Davern must be the Zac Efron character or that other guy whose name I am pretty sure no one has ever known. He got off easy. Too bad no one dressed as full bush Vanessa Hudgens.
Jonathan VanEvery
Priceless. Simply priceless. I kind of wish I had been in High School Musical now, so I could contribute to my beloved pasttime of rookie hazing.